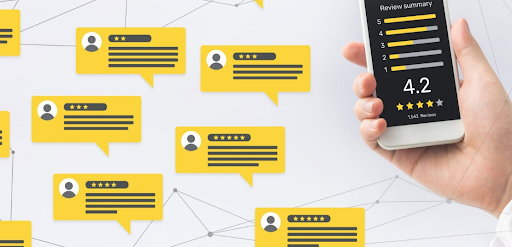 Are you fully utilizing the Power of Online Reviews?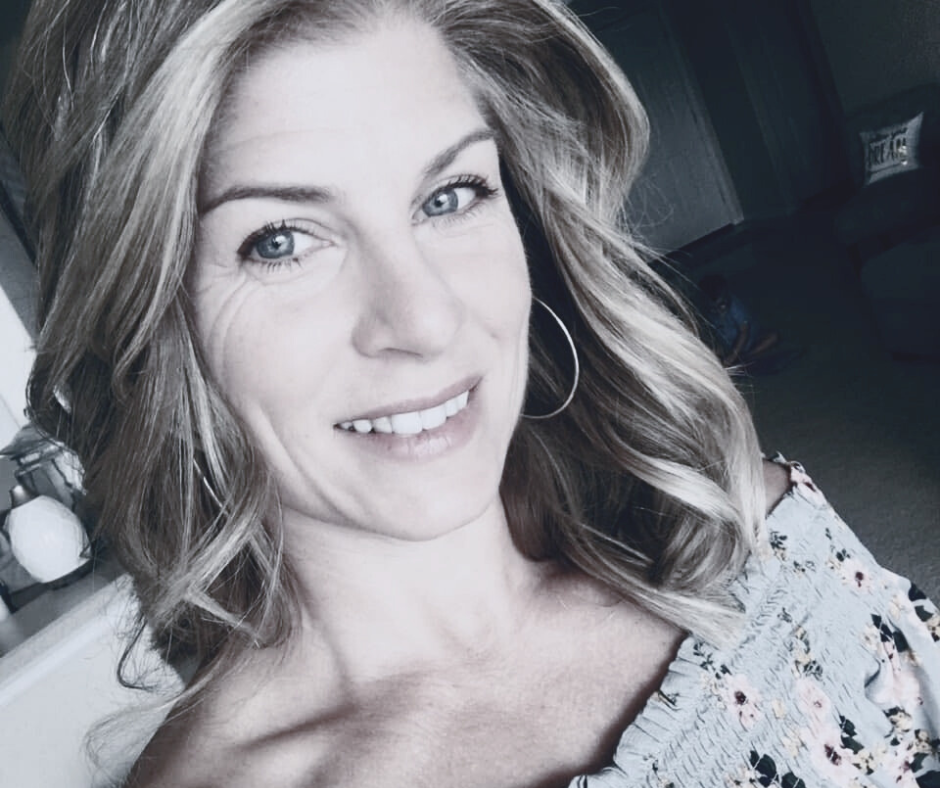 Shelley Gulley
The Cowbell Agency
When you think about the last time you needed to make a purchase – how did you go about researching your options? I'll bet you probably consulting online reviews BEFORE making your decision. Did you know Online reviews are the 1st place consumers look when they begin their consumer journey?  In fact, 72% of customers won't take action until they read reviews (1). That's powerful. 
Gone are the days when consumers relied solely on recommendations from friends and family to inform their buying decisions. While personal referrals still hold sway, consumers have a world of information at their fingertips, and they're no longer simply relying on catchy advertisements or persuasive sales pitches to guide their purchasing choices. Instead, they're turning to a more reliable source: online reviews. 
Since the pandemic, the importance of online reviews for businesses has skyrocketed even more, reshaping the way companies engage with their customers and ultimately influencing their success.  Today, online reviews offer a glimpse into real-life experiences, shedding light on both the positives and negatives of a product or service. This transparency helps consumers' confidence in making informed decisions.
Who do you trust?
Trust is a cornerstone of any successful business-customer relationship. Reviews are the new "Digital Word-of-Mouth", and the biggest deciding factor when consumers are choosing products or services. Companies, in a sense,  have lost control of their brands with the freedom of the internet and social media. Customers are NOW in control. Customer perception IS your Brand. 
In the digital age, trust takes on a new form: Online Reputation. Reviews, ratings, and testimonials serve as a litmus test for the authenticity and reliability of a business. 
Businesses that want to succeed in our digital age of Review Reputation Management will stay focused on consistently delivering quality and prioritize positive customer experiences, which will in turn be rewarded with higher review scores, higher quantity of reviews, and therefore. increased sales.
SEO and Visibility
The impact of online reviews transcends the realm of consumer decision-making. Search engines, recognizing the value of user-generated content, factor reviews into their algorithms. Positive reviews can significantly enhance a business's search engine ranking, leading to increased visibility and organic traffic. This interplay between reviews and search engine optimization (SEO) highlights the symbiotic relationship between customer feedback and online presence.
Building a Feedback Loop
Businesses that actively engage with their customers' reviews demonstrate a commitment to customer satisfaction and continuous improvement. Responding to reviews, whether they're positive or negative, fosters a sense of community and customer loyalty. It also provides a platform for businesses to address concerns, offer solutions, and showcase their dedication to enhancing the customer experience. By utilizing reviews as a feedback loop, businesses can adapt and evolve to meet their customers' evolving needs.
Improving your Online Reputation with Cowbell's Reputation & Review "Boss" Management Platform
A great example of the power of Reputation & Review Management came in March 2023, when one of our clients was looking for a way to improve their search engine performance (SEO). Google's new algorithm places much more importance on total reviews, frequency of reviews, and review scores than ever before.  
While they were receiving some Google reviews, the quantity was very low compared to the volume of client interactions they have on a daily basis. They were MISSING OUT! Connecting their Customer Relationship Management system to our Reputation Boss Platform allowed for time-saving automation for review requests through email and SMS messaging which dramatically increased their volume and rating experience.  
Instead of receiving an average of 40 reviews monthly as of March, they were projected to hit 286 reviews monthly by August 2023 while sustaining a 4.9 Rating. 
That's a 615% increase in just 5 months! 
All this increased review activity is just one of the pieces of the SEO puzzle that helped them go from 24 keywords in the top 10 results for Google search to 240 just 6 months later. That is a 10 fold increase. 
We are able to offer our clients a proprietary portal that allows you to solicit your customers for reviews, and automate a process that promotes the positive reviews over the lower reviews. In other words, you develop a proactive, disciplined approach as opposed to sitting back and letting it just…well…happen.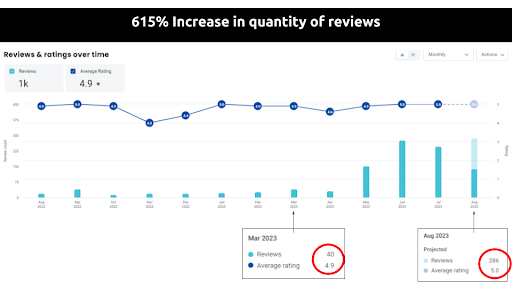 Get more reviews – This allows you to instill a proactive and disciplined approach to improving your online reputation
Manage your brand reputation – Control critical review sites and search engines including Google, Bing, Yelp, and Facebook.
Monitor and track your customer feedback – The dashboard provides analytics and trend metrics on review scores
Increase your online reputation review score – Encourages more 5- and 4-star reviews online which raises your average and moves lesser scores further down the page.
Navigating the Landscape
In the dynamic world of 2023, businesses must navigate the online review landscape strategically. Monitoring various review platforms, encouraging satisfied customers to leave reviews, and promptly addressing negative feedback are crucial components of this strategy. Businesses should also prioritize delivering consistent quality and exceptional customer service, as these are the bedrock of positive reviews.
As consumers continue to consult online reviews before making purchasing decisions in 2023, the importance of these reviews for businesses cannot be overstated. The digital age has ushered in an era of informed consumers who rely on the collective wisdom of their peers to guide their choices. 
Embracing the power of online reviews, businesses can build trust, strengthen their online presence, and forge lasting relationships with their customers. In this landscape, reviews are not just feedback; they're the currency of credibility and the key to unlocking business success.
If you are ready to take charge of your Business's online reputation and reviews, Contact us today.  Learn more about Cowbell's reputation management. 
Reference:  (1) The 2022 State of Online Reviews Birdeye.